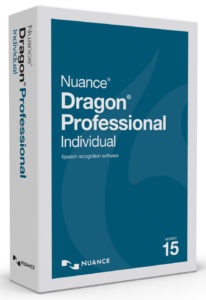 Dragon for PC is the #1
speech recognition software in the world!
It is the fast, easy and accurate  way to turn speech into text.
Users can dictate into virtually  any windows-based application, and can even control their personal computer simply by speaking. From creating e-mail and surfing the Web, to creating reports and spreadsheets, Dragon for PC makes it easy for everyone to save time and money.
Why is training so important?
Because Dragon isn't like any other software.  Dragon learns by its mistakes.  Users typically can become frustrated by misrecognitions and if they do not understand how to correct the software, the accuracy can decline causing more frustration. Without expert training most users fail and quit.
We help to customize the program and provide you with tips and tricks to help you get the most out of this product so that you become productive quickly.
We can help you create dictation shortcuts that you can use to quickly create repetitive text.
As with any new software there is a learning curve, but with proper instruction and a commitment to training, you can learn how to use Dragon efficiently.
We provide training for all versions of Dragon:
Dragon Professional Individual, Dragon Premium, Dragon Home and more!
Our Recommended Minimum System Requirements for Dragon for PC version 15:
RAM: Minimum 4 GB
CPU:  Intel 2.4 GHz Dual Core or equivalent AMD processor. Faster processors yield faster performance.
Free hard disk space: 4 GB (8 GB for electronic download)
Supported operating systems: Windows 7, 8.1, 10 and (32-bit and 64-bit); Windows Server 2008 R2 & 2012 R2.
Internet Explorer 11 or higher or the current version of Chrome or Firefox for Online Help
A sound card supporting 16-bit recording
Built-in microphone or a Nuance-approved microphone (not included with software). See support.nuance.com/compatibility for more information
A DVD-ROM drive for installation (required if installed from disc)
An Internet connection for automatic product download and automatic product activation (a quick anonymous process)
Note:
Supports Microsoft Office 2010, 2013 & 2016 (Full text control, Menu tracking, Natural Language Commands.)  Office 365 (Supports plain dictation only.)
Does not support dictation into Electronic Medical Record (EMR) systems. For EMR support, please use Dragon Medical Practice Edition.
Training services available in the greater New England area and online.
To learn more about us – click here
To request information – click here